Immune Boost Therapy in San Ramon, CA
Common questions asked by patients: What is immune boosting therapy? Can I boost my immune system with IV therapy? What are the benefits of IV therapy? What are the signs of a weak immune system? Contact Golden State Medical Center in San Ramon, CA, and get treated with our immune boost therapy to enhance your immunity. We are located at 2551 San Ramon Valley Blvd. Suite 108. San Ramon, CA 94583. For more information, please call us or request an appointment online. We serve patients from San Ramon CA, Dublin CA, Blackhawk CA, Danville CA, Alamo CA, Diablo CA, Dougherty CA, Tassajara CA, Livermore CA, and Pleasanton CA.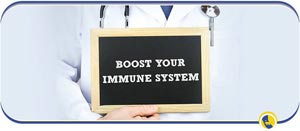 Are you feeling under the weather or a little run down? Are you about to travel or do you travel often? This infusion is an all-around effective immune boost for keeping your immunity defenses up. Add a vitamin D injection to top it off.
Excellent For:
Improving Immune Function
Boosting Energy
Antiviral Support
Zinc
Vitamin C
B-Complex
500 ml Lactate Ringer
$200